Remote RAID recovery services for businesses and individuals
Data Retrieval has in-depth knowledge of RAID systems and, as one of the leading data recovery centres in central London, offer dedicated remote RAID recovery services whenever possible. So, if you are no longer able to access your data and need immediate help, contact Data Retrieval now on 020 7064 4996. Our technical team will find the correct RAID recovery technique adapted to your case, giving you the maximum amount of chance of full recovery.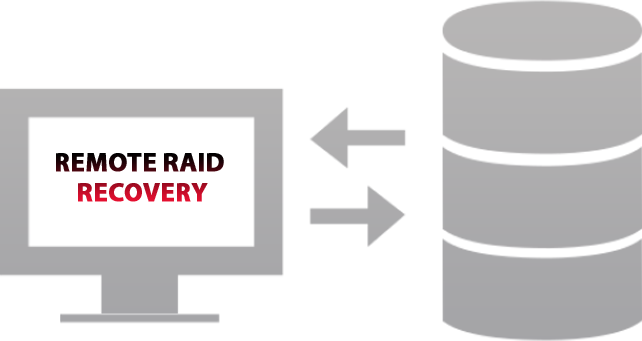 Contact Us and Speak to a RAID Expert Now
Cause of a RAID failure in need of remote RAID recovery
There are several common failures that can affect a RAID system. These include:
– Hardware failures such as a broken or damage part on one or several hard drives, hard disk component failure, RAID controller failure, power supply failure, overheating, drive wear and tear
– Software failures including damaged folders or files, RAID configuration faults, registry file corruption, backup failures, virus infections and malware attacks.
– RAID application failures including server unable to run apps or load files, corrupted app files, locked databases for app access.
–  Human error failures including accidental deletion, accidental reformatting of partitions, overwrite of the database, incorrect RAID set up, lost password
Although RAID systems offer additional reliability to their users, component failure and other issues can happen so it's important to know who to turn to when a RAID disaster cripples your day to day operations.
State-of-the-art remote RAID recovery facilities
From the diagnostic of the RAID failure to the repair of damaged drives and the full recovery of the data, Data Retrieval will accompany you all the way. Our reputation of professional and personal data recovery company is based on the knowledge of our technicians who can perform recoveries on any RAID configuration, including RAID 0 recovery, RAID 1 recovery, RAID 4 recovery, RAID 5 recovery, RAID 6 recovery, RAID 10 recovery, RAID 50 recovery and RAID 0+1 recovery. We have all the necessary equipment to assess and fix RAID drives including soldering stations, PC-3000 data recovery, physical data recovery tools for precision work as well as a fully certified clean room to open drives with mechanical failure.
Trust Data Retrieval, the expert remote RAID recovery company in London
Data Retrieval will confirm the exact cause of failure of your RAID as soon as one of our technicians has been able to troubleshoot the issue. Our assessment report will include information about the condition of all internal drive components as well as potential software issues. Once the diagnostic is established, we will be able to give you a quote and a lead time for the recovery of your data. Don't wait! Get in touch with our expert remote RAID recovery team now for a initial assessment and a quote. We are available to talk Monday to Saturday from 0900 until 1800 and also offer emergency remote RAID recovery services outside office hours and at weekends.