The complexities of flood damaged storage device recovery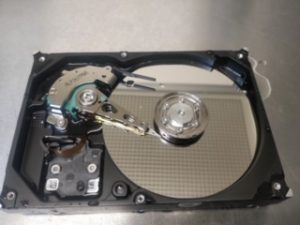 Flood damaged storage device recovery is complex. When computer equipment is affected by flooding, being able to recover the data contained on affected computers, laptops and servers' hard drives is usually a priority.
If important data such as photos, videos, database, emails or business documents were not backed up off-site before the flooding happened, it is important to act swiftly and get your hard drives, SSDs, servers, RAID and other storage devices to a specialised data recovery immediately. Waiting too long or trying to carry out tests or repair the device by turning it on, drying it up, rinsing it with clean water if it has been affected by salt water or opening it up could worsen the chances of recovery and be more costly in the long run. The best way forward is to pack the storage device safely in paper towel, place it in a plastic bag and send it to a specialist that it can checked it straight away.
What needs to be done to get a flood damaged storage device recovery?
If you take the example of a wet hard drive, RAID drive or external drive, having the right equipment and following the correct procedures is important to ensure that corrosion on the drive can be cleaned effectively in an anti-static clean room. An ultra-sonic bath can be used if necessary, to repair for example the PCB board if its traces have been damaged or corroded by the water.
The data will either be accessed directly or the replacement of components will have to be done to restore the drive to a temporary working order. Once done, the data recovered can then be transferred onto an external hard drive.
Don't Throw Your Water Damaged Storage Drive until you get a full evaluation of the damage
Success rates for flood damaged storage device recovery vary depending on the damages involved. Getting the right evaluation from professional data recovery is one of the most important steps. They will be able to identify what components have been damaged or corroded, what needs to be replaced or whether the data recovery can be completed using logical techniques.
Data Retrieval is a specialised data recovery company based in Central London. The company carries out the recovery of all storage devices, including SSDs, hard drives, flash drives, RAID and servers that have been affected by flooding.