RAID 1 Data Recovery Services in London
Data Retrieval provides specialised RAID 1 data recovery services for businesses and organisations in London. As one of the most reliable RAID data recovery company, we offer fast turnaround times, high success rates and highly secured services.
In a nutshell, RAID 1 systems use a configuration based on drive mirroring where all the disks making the array storage are the same. So, when the data is written on the array, it is mirrored on each drive, usually two drives. Some companies add an extra layer of protection by creating a copy of the array on a RAID 0 or RAID 5.
Even if RAID 1 configurations are not known for their fast performance and are often slower than other configurations, they are a popular configuration because the data it contains will not be lost as long as one drive is still functional.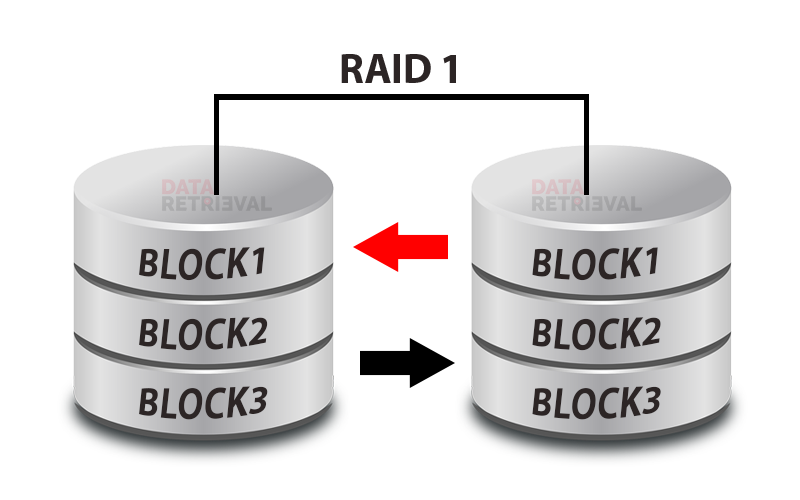 RAID 1 failures that lead to situations of data loss
However, even if RAID 1 offers a good protection against data loss, there are instances when data loss becomes a reality. The most common RAID 1 failures include:
– Faulty RAID Controller
– Accidental File Deletion
– Accidental formatting
– Hardware conflicts
– Software errors
– File corruption
– RAID errors during rebuild
– Corrupted RAID configuration
– Electronic failure
– Hard Drive Failures
– Operating system failures
Even RAID 1 failures are relatively uncommon, it is important to involve a data recovery company with RAID experience to successfully retrieve your data. Data Retrieval has years of experience in the recovery of RAID configuration and can assist you with your RAID 1 failure quickly and effectively.
Steps to take when a RAID 1 failure occurs
When data is no longer accessible on a RAID 1 system, it is highly recommended not to attempt to rebuild the array, repair the system or install any disk utility on the system as this could lead to permanent damage and make the recovery chances more complicated. The best way to deal with any RAID 1 data loss situation is to power the system down and contact a specialised data recovery company like Data Retrieval who will be able to offer the best London RAID 1 data recovery solution.
Contact Us and Speak to a RAID Expert Now
Reliable RAID 1 data recovery services
Our data recovery lab located in central London is equipped with a certified clean room where damaged drives are open and repaired safely. We stock spare parts to allow us to complete part transplants quickly. We also maintain a comprehensive list of donor drive suppliers around the world which makes it easier for us to get the parts we need to repaired damage disk drives from the array. All our services are carried out in-house, in our highly secure data recovery lab.
It is easy to see why so many London based companies and organisations trust us with their RAID 1 data recovery:
– Comprehensive RAID 1 data recovery diagnostics and quotes
– Best data recovery tools and equipment available in the industry, including a certified class 10 ISO 4 cleanroom
– Dedicated team of RAID experts on-site, ready to deal with your emergency
– High rate of RAID 1 data recovery success
Data Retrieval will restore your RAID 1 to a working state quickly and spare you long and unnecessary downtime. Contact us today to get your data back without delay.