RAID 4 Data Recovery Services in London
Data Retrieval has a dedicated service for RAID 4 data recovery. As the leading RAID specialist in Central London, we turn around a high volume of successful RAID recoveries every year. Our team of expert data recovery technicians work in-house in our conveniently located data recovery lab in central London, SE1.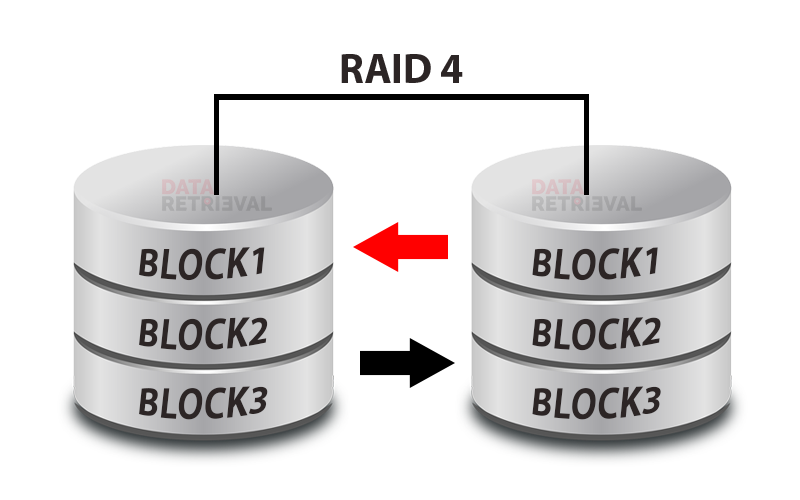 Causes of RAID 4 data recovery
RAID 4 is a RAID configuration that uses a dedicated parity disk and block-level striping across multiple disks. Because data is striped in RAID 4, the records can be read from any disk. It isn't widely used because all the writes must go to the dedicated parity disk that cause a performance congestion for all write operations.
Failures do happen with RAID 4 in case of operating system failure, file corruption, virus damage, accidental deletion or software faults.
When the data is no longer available, it is important to do the right thing by turning the RAID off and contact a professional. Data Retrieval offers secure and professional RAID 4 data recovery services for businesses and organisations in London.
Advantages of using Data Retrieval for your RAID 4 data recovery
Our data recovery lab is equipped to carry out all recoveries for logical and physical failures to RIAD 4. Our certified clean room allows us to open physically damaged drives securely and perform the necessary repairs to salvage the data. All the diagnostics we offer are done in-house, same day, to ensure the return to normality with as little delay as possible.
To ensure the best chances of success, we recommend do to attempt to repair the RAID or install software that could erase the data. The best way forward is to turn the RAID off and contact Data Retrieval for immediate assistance with your RAID 10 disaster recovery. We can organise the collection of the RAID or it can be taken straight to our recovery centre. Once a diagnostic has been established and a full analysis of the failure is confirmed, a quote is given with an estimate of the turnaround for the full completion of the project. Our services are available 6 days a week and emergency situations can be dealt with 24/7.
Contact Us and Speak to a RAID Expert Now
Secure RAID 4 data recovery services in London
Data Retrieval has years of experience in all RAID configurations. We understand the importance of getting your data lost back without delay. Our secure RAID services are carried out by our highly skilled technicians who ensure the complete confidentiality of information throughout the recovery process. We stock spare hard drive as donor drives and have suppliers around the world, able to help whenever there is a need. The data recovery equipment we use is the best in the industry so you can have full confidence in our capability to retrieve your information.
To discuss your London RAID 4 data recovery requirements or if you have any question in relation to your RAID, call us now on 020 7064 4996 and speak to one of our RAID recovery experts for an initial consultation.