Expert RAID 0 Data Recovery Services in London
Data Retrieval has a dedicated data recovery service for RAID 0 data recovery. From our London based data recovery lab equipped with a certified Class 10 ISO 4 Clean room coupled with many industry credentials, we provide fast, secure and professional RAID data recovery services to businesses and organizations in London.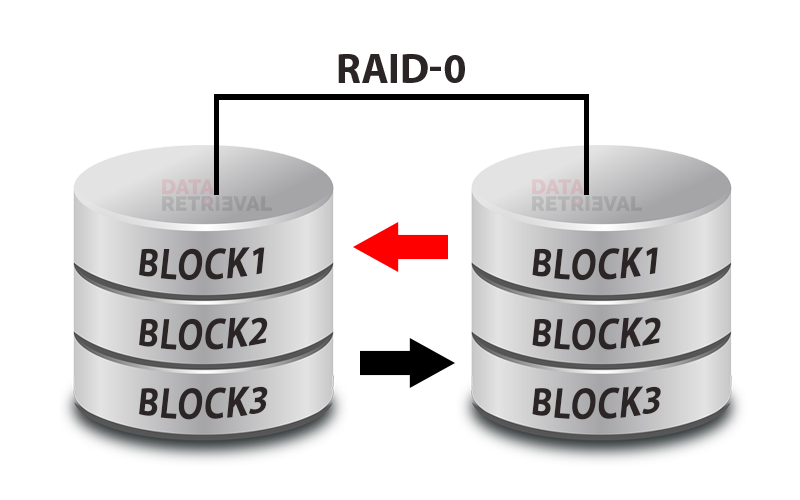 What is preventing you from accessing data on your RAID 0 system?
The way a RAID 0 configuration works is that it stores data in a series of stripes. When a file is written onto the storage array, which is the dedicated storage hardware that contains either hard disk drives (HDDs) or solid-state drives (SSDs), the data is broken into a number of fragments whose numbers vary depending on the number of drives in the array which writes all of the fragments simultaneously.
The issue with RAID O is that if one of the drives fails, because of a logical or a physical failure, the array loses the data which is no longer available to the user. That's when Data Retrieval can assist you with a clear and complete diagnostic of the RAID failure and solutions for a successful RAID 0 recovery.
Secure RAID 0 data recovery services
Data Retrieval offers fast and comprehensive diagnostics for all RAID 0 system failures. Diagnostics include all the necessary information to put a plan in place and will give you a full analysis of the RAID 0 failure. From this analysis, we can come up with a RAID 0 data recovery plan and a quote for the recovery of the information.
State-of-the-Art RAID 0 Data Recovery Lab
Data Retrieval has years of experience in RAID data recovery services in London. As one the leading data recovery solution providers, we provide highly competitive, fast and fully secure services from our state-of-the-art data recovery centre in London SE1. Our facilities include a certified clean room, and PC-3000 data recovery tool which are combined with hand-on technical knowledge from a dedicated team of data recovery technicians. This is why we can claim to have one of the highest success rates for RAID 0 data recovery interventions.
Any physical damage to hard drives from a RAID 0 configuration is assessed and dealt with in our clean room, ensuring the best possible environment for sometimes very complex manipulation. Drives can be cloned and restored, and files can be repaired to allow the recovery of the data. Our technical team has experience with all operating systems, file systems and file types.
Contact Us and Speak to a RAID Expert Now
Most common RAID 0 data loss cases and what to do when your RAID 0 fails
There are several common hard drive failures which result in RAID 0 loss. These include:
– Controller Failure
– PCB failure
– Electronics Issues
– Hard drive failure
– Damage to the hard drive firmware
– File corruption
– Virus
– Human error including accidental file deletion and formatting
Time is of the essence when dealing with a hardware damage to the RAID in order to avoid permanent data loss. It is advisable not to shut down the RAID and not to try to attempt to restore or rebuild it or try to repair the damaged hard drives using any type of software as it may decrease the chances of recovery. The best way to sort the issue is to speak to a RAID data recovery expert like Data Retrieval immediately.
Data Retrieval complies with a strict number of security procedures to restrict unauthorised access to your confidential data. Our premises are fully secured to protect the full confidentiality of our customers.
Advantages of our RAID 0 data recovery and repair services
Data Retrieval is specialised in London RAID 0 data recovery. We can repair your RAID disk array and recover your files allowing you to avoid unnecessary downtime. Whether your data loss was caused by a hard drive failure, an accidental manipulation or any other reason, we assist our customers all the way, from the diagnostic of the fault to the recovery of the data and the RAID rebuilt. Some of the advantages of using our company include:
– Quick access to expert RAID recovery technicians
– Fast turnaround and emergency services available
– Certified Class 10 ISO 4 Cleanroom
– Fast RAID 0 failure diagnostic
– Minimum downtime after media failure
Call our data recovery team today on 020 7064 4996 to discuss your London RAID 0 data recovery today.