RAID 10 data recovery services in London
Data Retrieval has a specialist team of RAID experts who offer fast and reliable RAID 10 data recovery services to businesses in London.  Our company is a name you can trust when disaster strikes and you are no longer able to accept important data stored on your RAID.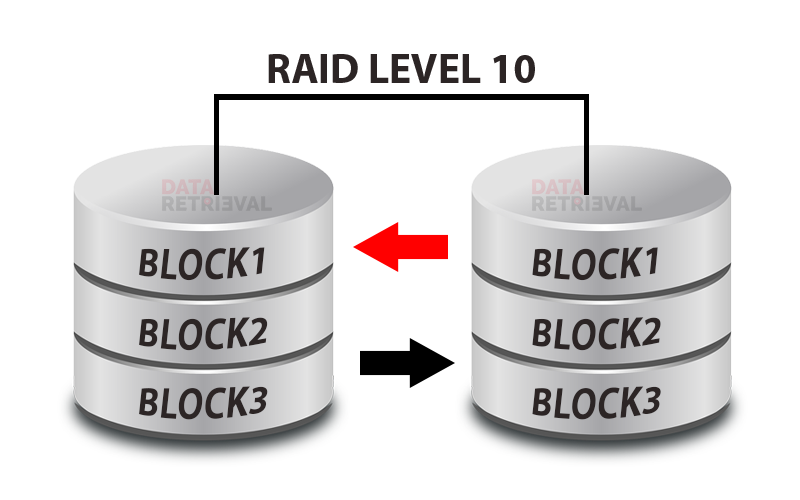 Advanced RAID 10 data recovery technology to retrieve lost data
Data Retrieval is equipped with advanced data recovery tools and equipment to guarantee a high level of success when it comes to the recovery of lost RAID data. Our data recovery lab is equipped with a certified clean room to repair any physical damage and the most sophisticated data recovery tools and resources available on the market. Our team knows how important your data is and we always endeavour to offer the highest level of care and commitment to all the RAID 10 data recovery projects we undertake.
Contact Us and Speak to a RAID Expert Now
What is RAID 10 and what can be done to deal with a RAID 10 failure?
RAID 10, also known as RAID 1+0, is a RAID configuration that combines disk mirroring and disk striping to protect data. It requires a minimum of four disks, and stripes data across mirrored pairs. As long as one disk, the hot spare, in each mirrored pair is functional, data can be retrieved. But, like all systems, there is no perfection in a RAID 1+0 configuration, even if it is well maintained, and some complex cases of data loss can occur, particularly when there is an operating system failure or a logical failure affecting the drives. If two disks in the same mirrored pair fail, all data will be lost because there is no parity in the striped sets.
So, when a drive failure occurs and the RAID no longer works properly, it is important to turn the system off and get in touch with us as soon as possible to avoid further damage and data loss.
Some issues with a RAID 10 may be on-going without the user noticing them as there may be no visible symptoms of failure. Some of the most common failure situations for RAID 10 include:
Virus attack
Multiple hard drive failures
Single hard drive failure
Power surge
RAID controller damage
Accidental file deletion
Accidental deletion
File corruption
To discuss your emergency disaster recovery now, call us on 020 7064 4996 and speak to one of our RAID 10 data recovery experts immediately.