RAID 5 Data Recovery Services for businesses and organisations in London
Data Retrieval offers specialised RAID 5 data recovery services in London. If you have lost access to important files after a RAID failure, you've just found the right company. We can help you regain access to your data without delay.
RAID 5 is the preferred RAID configuration for web and storage servers. The advantages of RAID 5 is that it offers a great performance as well as a high fault tolerance when it comes to a hard drive failure because of the distribution of parity across the disks. RAID 5 work fast and can write data to all the drives at the same time. If one of the drives is faulty, the configuration has to be rebuilt and if more than one drives experience an issue, and if there is no back-up available, data can become inaccessible.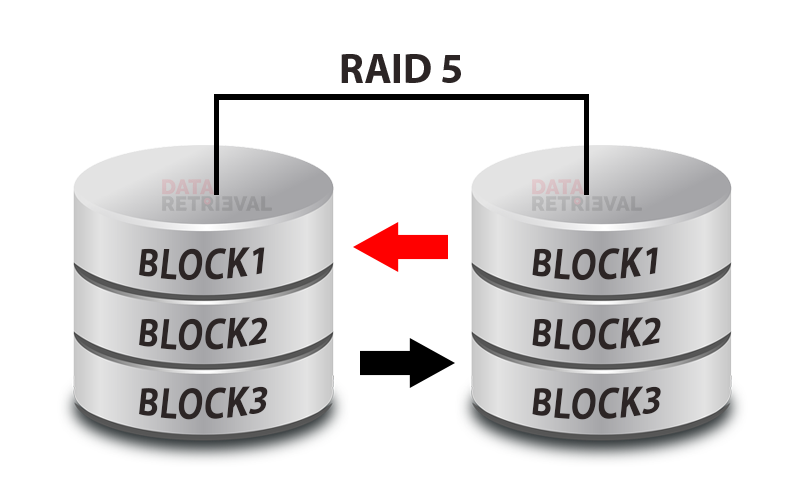 Reasons why a system can experience a RAID 5 failure
When receiving a RAID 5 with inaccessible data, we are able to carry out a full diagnostic and identify the cause of the failure. Common issues include:
– Electronic damage
– Hard drive failure
– Controller failure
– Failure during the rebuild of the RAID 5
– Accidental File Deletion
– Loss of parity
– Accidental formatting
Our diagnostics are done in-house, in our state-of-the-art RAID data recovery lab located in London SE1. Our turnaround times are fast, and we always guarantee the security and confidentiality of data during the recovery process.
Important recommendations after a RAID 5 failure
The first step to take if you are unable to access the data on your RAID 5 is to turn it off. We recommend not to use any software or attempt to repair or rebuild the system if errors messages are coming up. Experience has shown that there are risks in leaving the RAID 5 on when a system failure occurs as it may the recovery process more complicate or lead to parity loss or data overwrites. In order to increase the chances of recovery, it is important to contact a specialised RAID 5 data recovery company that will know exactly how to react and help you get your system up and running quickly.
Our data recovery tools and set up are well adapted to any cause of RAID 5 data loss. We are able to offer fast recoveries without compromising the safety and confidentiality of data.
Contact Us and Speak to a RAID Expert Now
Reliable RAID 5 data recovery services in London
While dealing with RAID 5 recoveries, our technicians have access to a certified clean room to allow the safe opening of hard drives in cases of physical recoveries. Other recovery tools we use in PC-3000 which allow to recover data when the loss is related to a logical failure.
RAID recoveries is one of the specialism of Data Retrieval. We guarantee:
– High success rates for RAID 5 systems, no matter their sizes
– Fast diagnostics and quick turnaround times on all recoveries
– Dedicated team of specialised data recovery technicians who understand the important of your data
– Stock of spare parts
– State of the art and fully secure data recovery lab
You can trust Data Retrieval when it comes to the recovery of your RAID 5. Call our data recovery expert team today to get started or for more information about your RAID 5 failure.