Specialised RAID 6 data recovery services in London
Data Retrieval is specialised in professional RAID 6 data recovery services in London. Our technicians have amassed a large amount of knowledge and hands-on experience which allow them to get a RAID server up and running with a minimum amount of downtime. All the services we provide are highly secured and carried on in-house from our Central London based data recovery centre.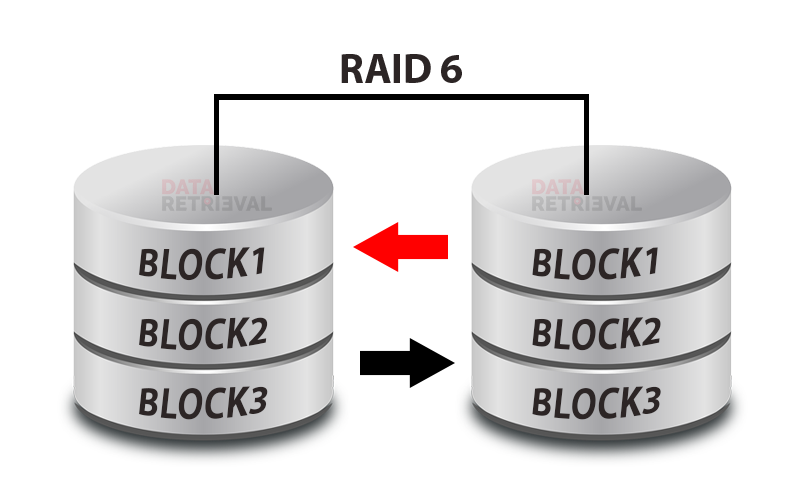 Issues affecting RAID 6 leading to data loss
RAID 6, also known as double-parity RAID, is highly fault tolerant. By using block-level striping and distributing two parity blocks on each disk within the array, it has the capability to continue working without losing data even if it faces two concurrent disk failures. A RAID 6 configuration has a minimum of four drives.
Common failures of RAID 6 include:
Physical damage including water or fire
RAID controller damage
Accidental formatting
Errors during rebuild
Virus
File corruption
File over-write after re-initialisation
Secure and reliable RAID 6 data recovery solutions for businesses in London
Data Retrieval is specialised in RAID recoveries. All our projects are completed with the highest level of professionalism and care. Our reputation as expert in RAID recovery is one of the best thanks to the advanced technology we have invested in over the last few years.
By letting Data Retrieval deal with your RAID recovery, you are assured of the following benefits:
Experienced technicians with knowledge of all RAID levels, RAID operating systems and file formats
Large stock of spare parts to fix hard drives and RAIDs quickly
Quick turnarounds for RAID 6 recovery with emergency services available 24/7
High success rates
Competitive rates of recovery
Secure data recovery lab and strict procedures in place to guarantee data confidentiality
Call our expert RAID data recovery team today on 020 7064 4996 and get the recovery of your RAID 6 data started now.
Contact Us and Speak to a RAID Expert Now
Our data recovery lab is equipped with a certified Class 10 ISO 4 cleanroom and all the correct tools to provide fast diagnostic and accurate solutions to fix a RAID 6 disaster. All our technicians are certified in data recovery and provide reliable assistance to avoid data loss and costly business downtimes.
When a RAID 6 configuration suddenly fails and you are unable to access your data, it's important to take the right steps to increase the chances of success of the recovery. Making notes of the errors messages and labelling the drives is important. Afterwards, you have to let a professional data recovery company like Data Retrieval deal with the issue. We will give you an accurate diagnostic of the fault and identify the best disaster recovery options.