RAID 0+1 Data Recovery Services in London
Data Retrieval has built a reputation of expertise in the field of all RAID recoveries and RAID 0+1 recoveries in particular. From our London based data recovery centre, equipped with a state-of-the-art clean room and sophisticated data recovery tools and equipment, we can offer some of the fastest and highest success rates in RAID 0+1 data recovery.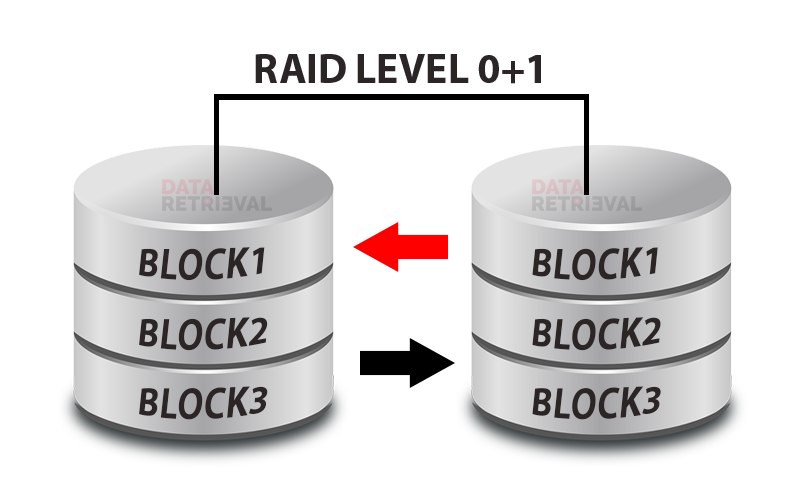 Why choose Data Retrieval for a RAID 0+1 data recovery?
Choosing a reliable data recovery provider is one of the most important decision you can make when you RAID 0+1 experiences a serious failure. We have a dedicated team of technical experts who know how important the recovery of your data is and whose focus is on getting you back to normal as quickly as possible.
We offer fast turnarounds, emergency services, high success rates, hands-on RAID experience and a willingness to provide professional services and the highest customer satisfaction when it comes to recover RAID 0+1 data. To rebuild your RAID 0+1 now and restore your data, call us now on 020 7064 4996 and speak to one of our RAID recovery experts. We are available today for a full diagnostic.
Contact Us and Speak to a RAID Expert Now
RAID 0+1 failures and how to deal with a RAID 0+1 disaster
RAID 0+1, also called 01, is a nested RAID level made up of at least four disks in a standard configuration. It uses a mirror of stripes, allowing both replication and sharing of data between disks. So, as long as one disk in each mirrored pair is functional, data can be retrieved. RAID 0+1 are used for web servers, storage servers and high-performance storage systems because of their high tolerance levels. Unfortunately, like all other systems, a sudden failure can prevent access to the data. The most common failures include:
– Virus
– Operating system failure
– Physical and electronic damage
– File corruption
– Multiple drives failure
– Human error
– RAID controller issue
Our data recovery lab is equipped with the latest facilities and equipment to deal with all cases of RAID 0+1 disaster. Our technicians can determine the exact nature of the failure as soon as the RAID system is delivered to our data recovery lab. The chances of the success of the recovery will be increased if no attempt of recovery or installation of recovery software or disk utility has been done. A full diagnostic report and an accurate quote and information about lead times will be given to you before the recovery process is started.