Toshiba Hard Drive Data Recovery Specialists
Data Retrieval Ltd offers Toshiba hard drive data recovery services which have a higher-than-average success rate. Toshiba is the world's fifth largest producer of computers and it is also the market leader in manufacturing 2.5" hard drives. It is also the leader in innovation of smaller hard drives. However, Toshiba hard drives are prone to common problems which all the other hard drive face such as bad sectors as well as mechanical, electrical and logical failures.
Common faults for which we offer our specialised Toshiba hard drive data recovery services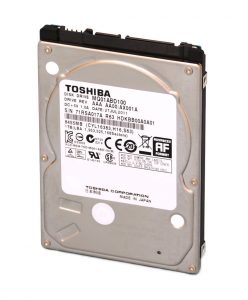 Below is the most common Toshiba hard drive failure types dealt by Data Retrieval Ltd:
Toshiba Hard Drive Electrical Failure
Toshiba Hard Drive Mechanical Failure
Toshiba Hard Drive Logical Failure
Toshiba Hard Drive Firmware Failure
Toshiba Hard Drive Bad Platter Area
Toshiba Hard Drive Complex Failure Mode
Toshiba Data Recovery Services Offered by Data Retrieval
Our dedicated Toshiba data recovery experts can provide data recovery on any size or model Toshiba hard drive, including:
MQ01ABD*** Series
MQ02ABF*** Series
MQ01ACF*** Series
MQ01ABF*** Series
MQ01ABU***W Series
MQ01ABU***BW Series
DT01ACA*** Series
Contact Data Retrieval for all your Toshiba hard drive data recovery
Backed by more than 15 years of Data recovery experience, Data Retrieval Ltd will be able to retrieve data from all Toshiba hard drives using specialised tools and techniques. In our lab, your Toshiba system will be handled by the best Toshiba data recovery experts who follow rigorous standards to guarantee the best results possible. We offer you the fast, secure, and confidential data recovery services you need. The process for your Toshiba data recovery can begin with our online form or, simply call us at 020 7064 4996 and speak to one of our data recovery experts.