In-House RAID data recovery services in London and surrounding areas
Data Retrieval has a specialised in-house RAID data recovery team who is able to deal with any RAID emergency. So, if your business is located in London and you require fast, secure and reliable assistance with your RAID, call us immediately on 020 7064 4996. Our lines are open Monday to Saturday from 0900 until 1800 and we are able to provide emergency services out of hours and at the weekend.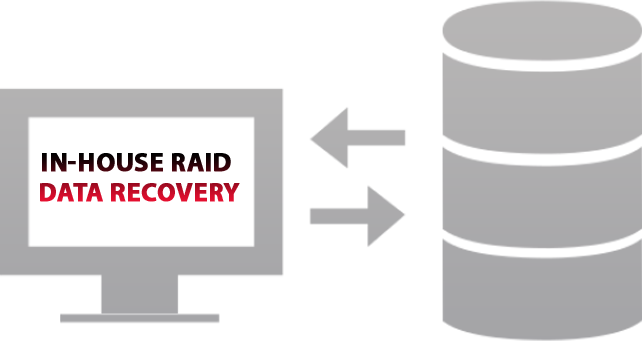 Contact Us and Speak to a RAID Expert Now
When to look for an in-house RAID data recovery service?
If your RAID is no longer functioning correctly and if you are having trouble accessing the data on it, only a professional should try to repair it. RAID systems have complex configurations. Data Retrieval has an expert team of technicians who can deal with all RAID configurations including RAID 0 recovery, RAID 1 recovery, RAID 4 recovery, RAID 5 recovery, RAID 6 recovery, RAID Level 0+1 recovery, RAID 10 recovery and RAID 50 recovery. We have all the tools in-house, including PC-3000 and a certified clean room to tackle both physical and logical data recoveries for RAID. All our services are completed in our central London data recovery lab located in London SE1. We follow strict security and confidentiality procedures to ensure the safety of data at all times.
Causes of RAID failures
RAID systems have been put together to add additional security to storage devices. Nevertheless, they are not 100% failure proof and if one or several hard drives of the array is physically damaged or if the system is corrupted, it becomes impossible to access the data and run the system properly.
Common RAID failures include:
Power failure
Wear and tear
Controller RAID failure
RAID rebuild that didn't go as planned
Failure of more than one disk
Partition deletion
Human error
Death of the server
Whatever the cause of the RAID disaster, it's important not to attempt a restart or a rebuild without accurate troubleshooting of the problem.
Trust Data Retrieval's in-house RAID recovery services
If you want your business or organisation to be up and running quickly, contact the expert RAID team of Data Retrieval without delay. A complete and accurate diagnostic of the RAID will be carried out as soon as the system has been tested. Once the quote has been approved, the data recovery process will start and be completed as quickly as possible.